Description
EziWP A300 ACRYLASTIC is a single component, UV-resistant, elastic, acrylic-based, seamless waterproofing solution for the exposed application. Specially designed for a variety of building and application to protect and prevent penetration or leakage of water, and extend the service life of the roof.
Key Features
Eco-Friendly - Low VOC & Non-Toxic
UV-Resistant as such designed for exposed application
High bond strength for improved adhesion to a variety of well-prepared substrates
Single component solution that is user-friendly & eliminates site use error
Excellent carbonation barrier
Excellent resistance to weather & dirt retention
Prevent ingress of contamination & aggressive agents
Can be supplied in special colors to enhance decorative purposes
Key Usage
Concrete Roof
External Facade
Metal Roof
RC Car Porch Roof
Balconies
Terrace
Guttering & Down Pipe
PRODUCT INFORMATION

Product Name

EziWP - A300 ACRYLASTIC

Packing

5 kg and 20 kg

Shelf life

12 months

Storage condition

Store in cool and dry condition

Appearance

Grey

Base

Water-based

Chemical content

Acrylic

APPLICATION DATA

Mixing ratio

Use directly from the container

(Note: Stir well before use )

Coverage

Approx. 0.5 - 0.6 kg/m² per coat (Recommended 2 coats)

Final Curing Time

72 hours

Waiting time between coats

First Coat to Primer: 1 - 2 hours

Second Coat to First Coat: 3 - 4 hours at 30 - 35°C

Final Coat to Reinforcement (Second Coat): 12 - 24 hours

Light Foot Traffic

10 hours (Preferably longer)

Relative Humidity

Maximum of 85%

Application temperature

Substrate Temperature: 8 - 35°C Ambient Temperature: 8 - 35°C

Dew Point

Surface temperature must be +3°C above the dew point

Substrate Moisture Content

<2.5%; No condensation or standing water on

the substrate

TECHNICAL DATA

Tensile adhesion strength (28 days air dry ASTM D7234-12)

> 1.0 N/mm²

Elongation at Break (28 Days Air Dry ASTM D412 - 16)

> 150% (without reinforcement)

Water Penetration

Very low water permeability

Adhesion Performance

Good

Crack Bridging

Very Good

UV Resistant

Yes

Weather Resistant

Yes

Resistant/barrier to carbonation

Yes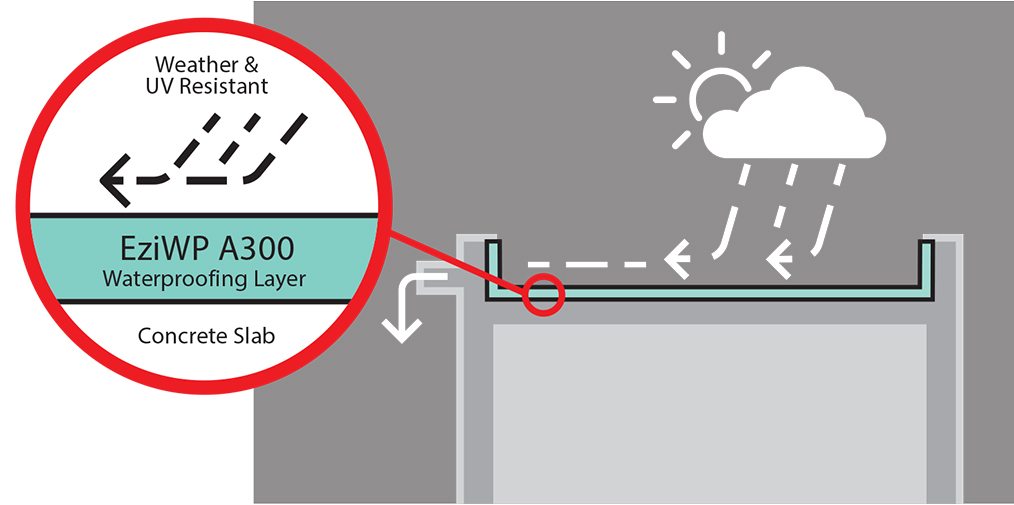 Disclaimer
All product images shown are for illustration purposes only. Actual products may vary in term of size, type, brand, version, colour, and other relevant characteristics.